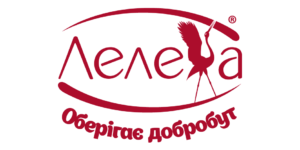 Leleka- protects the well-being!
Brand "Lelek" based on Ukrainian traditions for skin and hair care. In developing the recipes, the experience of our ancestors in the use of medicinal plants and folk recipes. At the core are known for a long-time, natural oils, plant extracts, which are grown on the territory of Ukraine. All products contain sea salt, which iment a large number of trace elements.
"Happy is the courtyard, where there is a stork's nest," said our ancestors. And today, "Lelek" – Ward family comfort, well-being and harmony.
Products brand "Leleka":

Shampoos
| | | | |
| --- | --- | --- | --- |
| Leleka Shampoo-balsam "Burdock oil" for all hair types 1L | Leleka Shampoo-balsam "Aloe" with sea salt 1L | Leleka Shampoo-balsam "Chamomile infusion" 1L | Leleka Shampoo-balsam "Nettle" with sea salt 1L |
| | | | |
| | | | |
| Leleka Shampoo-balsam "Burdock oil" for all hair types 500 ml | Leleka Shampoo-balsam "Aloe" with sea salt 500 ml | Leleka Shampoo-balsam "Chamomile infusion" 500 ml | Leleka Shampoo-balsam "Nettle" with sea salt 500 ml |
| | | | |
| | | | |
[collapse]