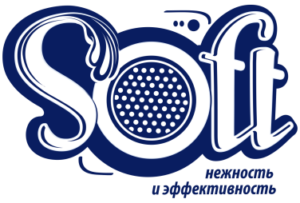 Soft- the tenderness and efficiency!
Liquid means a new generation of «Soft» brand allows you to clean clothes gently and effectively.
Liquid funds structure allows:
1. Reduce the potential for allergic reactions
2. Wash at low temperatures
3. Must spot
4. Use for hand washing
The recipe was developed with the addition of:
• Silk proteins that contribute to the softness and tenderness of tissues;
• Activator washing – Improves the quality of washing, it helps to remove stains;
• Does not contain phosphates and zeolites!
Продукция бренда Soft:

Liquid laundry detergent
| | | | |
| --- | --- | --- | --- |
| Soft Liquid detergent for washing white fabrics 500 ml doypack | Soft Liquid detergent for washing colored fabrics 500 ml doypack | Soft washing liquid black, dark jeans and things 500ml doypack | Soft Liquid washing delicate fabrics and things 500ml doypack |
| | | | |
| | | | |
| Soft Liquid detergent for washing white fabrics 2l doypack | Soft Liquid detergent for washing colored fabrics 2 l doypack | Soft washing liquid black, dark jeans and things 2 l doypack | Soft Liquid washing delicate fabrics and things 2 l doypack |
| | | | |
| | | | |
[collapse]