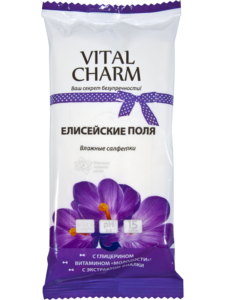 Wipes: Hygiene hand AQUA ALLEGORY with an extract of violets
Wet wipes perfectly cleanse and soften the skin. Contains extract of violets, which has soothing and moisturizing properties. Glycerin — softens the skin. Vitamin E — an antioxidant, prevents the damaging effects of free radicals, it is also called «vitamin of youth».
Neutral pH. Without alcohol.
Wipes are clinically and dermatologically tested.
Indispensable for quick cleansing in any situation.
Mode of application: Open the valve to get a napkin, and then close the valve tightly. Clear skin. Napkin is intended for single use only.
Ingredients impregnating lotion INCI: Aqua, Glycerin,  Cocamidopropyl  Betaine , Propylene Glycol, Cetrimonium Chloride, PEG-40 Hydrogenated Castor Oil, Viola tricolor extract , Parfum, Disodium EDTA, Allantoin, Tocopherol Acetate , Citric Acid, Phenoxyethanol, 2-Bromo-2-Nitropropane-1,3-Diol, Iodopropenyl Butylcarbamate
Amount: 15 pcs
Barcode: 4820091140463
---