Summer is around the corner! Here is the body!
This year, like never winter long and unwilling to retreat. Almost all March passed with snow, but spring still prevails and that the long-awaited heat will come! And just so we have some time to bring your body in order to be 100% ready for summer vacation at sea. What do we need to discuss in this article.
 Movement.
Computer work at home at the telly. Familiar? How not to gain extra pounds and not lose shape. Ready to change? Then immediately at the fitness club, there's even a special program for the ladies "enhanced training to fly". If you can not do in the gym, work on yourself at home. A light jog, stretching, and charging not only will help to remove a few pounds, but will raise the spirit. If you don't like aerobics, start to dance. Slimming suit any kind of dancing, especially useful: Oriental dance, Latin American or strip of plastic. Here to you a double benefit: awaken to look good and to move well.
Oleg Kuznetsov, massage therapist, physiologist, says: "the Principle of the body:
creates a Deposit of fat reserves. 2 – this stock is for something used (as occurs in weightlifting — first fat, then muscle pumping, transfer of fat into the muscle and drying). If we already have a depot of adipose tissue, it is necessary to spend. Can you recommend a General fat burning exercise, for example Jogging 40 minutes at heart rate of 160 or intense exercise in the gym. Prolonged aerobic exercise. Muscles in everyday life is loaded unevenly, and the fatty layer is formed mainly of those muscles that for some reason do not work. For example, the lower part of the press, oblique muscles, quadriceps femoris. You need to include these muscles by doing specific exercises for them, and then they will be used in OFP load".
 Food.
Rethink your diet. It is not advisable immediately sits down on the same water, so Yes it is possible to lose weight, but well spoil your health, it is better to eliminate from the diet of fatty, starchy foods and potato dishes, add more vegetables, cereals and lean cooked meat. Dairy products are welcome, no fat cheese, milk, yogurt, and definitely the yogurt to improve digestion. Refrain from fried meat, if you still decided to treat myself to fried chicken leg, don't eat the skin, this is a very rich part. Sweets, candies, pies, tarts, replace the dried fruits and nuts. In place of sugar use honey. Important point: drink clean water! Not less than 2 liters a day, in small portions, then all the toxins from the body will be good to get out of the body. And after a week you feel feel better, even complexion is a nice change. And let motivation be the words Bundeh Gisele, the highest paid model of the world: "When You do not watch what you eat – You turn into a trash can." However, I don't want myself to feel like this! Then go ahead –go for it!
Highlight of the meal is not less than half an hour. From the point of view of physiology that is how much time the body needs to signal the saturation of the come to the brain if the food intake will be faster, it will lead to overeating. In our time, when everything is spinning in a rapid rhythm, find your 30 minutes for lunch!
 Vitamins.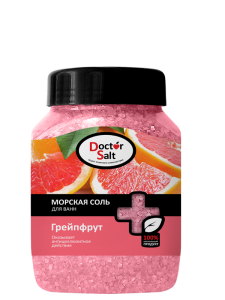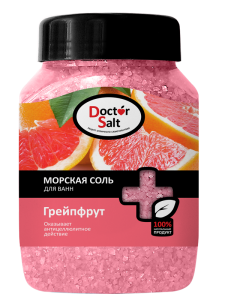 Spring is the period when the diet is poor in fruits and vegetables and as a result of not enough vitamins. It affects the skin, the dullness, the hair begins to fall hard on the nails and of course on General health. Take vitamin complexes. For example, singer Shakira shares her secret: "I use for the skin vitamin C and E. buy the Capsules at the pharmacy. They work wonders!" Beauty treatments perfect figure. Today, all the spas have integrated programmes to improve the condition of the body. This includes: massages, mud or seaweed wraps, hot baths, skin cleansing with scrubs. Massage has a beneficial effect on the whole body, and accelerates weight loss. Mud or seaweed wraps not only effectively break down fats and excrete liquid, but also activate the physiological mechanisms in the deepest layers of the skin, have obstensibly and lymphatic drainage effect. Hot tubs and contrast showers promote the breakdown of fat, reduces puffiness and helps flush out accumulated toxins. The pounds will go away easily if treatments are combined with proper diet and exercise.
After training, it is useful to take a bath with sea salt for bath from Doctor Salt grapefruit with cellulite. Bath with sea salt will help to remove the feeling of delayed onset muscle soreness and improve skin condition. Grapefruit essential oil, which contains marine salts – reduces cellulite, regulates metabolism, reducing the signs of obesity, increases physical endurance. Microalgae spirulina normalizes hormonal balance, stabilizes body weight. Water treatments in combination with proper diet and exercise will ensure the effective action on the problem areas.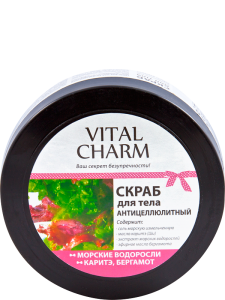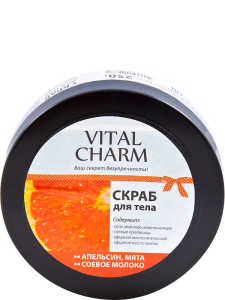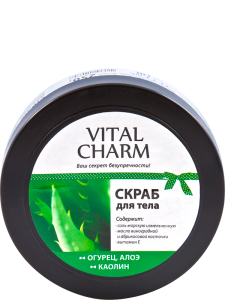 Steam treatments are also very useful, beneficial effect on the skin contrasting temperatures variations. Vozmite a bath salt body scrub Vital Charm. If You have problems with cellulite fit Cellulite "seaweed, Shea butter, bergamot". Sea salt crystals gently cleanse the skin from dead cells, improve skin tone and elasticity. Bergamot essential oil is an ideal remedy to care for aging, dry, problem skin. Strengthens the muscles of abdomen, chest and thighs, eliminating cellulite. Shea butter (Shea) has amazing nutritional properties, is a natural UV filter, improves skin elasticity, softens and restores the epidermal barrier. Algae extract supplies the skin with necessary nutrients – vitamins, minerals, amino acids. Method of use is simple: apply a small amount of scrub onto pre-moistened skin and gently treat your skin and then rinse with water.
If you have on the skin, especially in the chest and back is redness and acne, use a body scrub with sea salt Vital Charm "Cucumber, Aloe, Kaolin". White clay (kaolin), which is contained in the scrub absorbs the waste products of the cells of the body. Aloe extract has soothing, moisturizing and anti-inflammatory action. The composition is supplemented with cucumber extract that cleans, whitens, has astringent effect (tightens enlarged pores) moisturizes and tones the skin.
For dry skin is better to choose a salt scrub "Orange, Mint, Soy milk" Vital Charm. Sea salt crystals gently cleanse the skin from dead cells, improve skin tone and elasticity. Soy proteins necessary for dry skin, milk effectively nourishes the skin and fills it with minerals. Orange essential oil nourishes and regenerates dry skin. Mint essential oil refreshes and removes wrinkles.
We wish you good mood and vigorous spirit in the struggle for the perfect body!